Rhynchophorus Ferrugineus Lure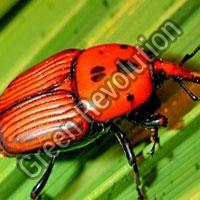 Business Type
Manufacturer, Supplier, Retailer
Dispenser
Vial
Material
U V Stabilized Plastic Polymer
Packaging
Individually Sachet Packed
Click to view more
Product Details
| | |
| --- | --- |
| Sachet Material | Foil Lined Laminate |
| Field Life of Pheromone Lure | 45 Days |
| Purity | 100% |
Scientific Name Of The Pest : Rhynchophorus Ferrugineus

Common Name of the Pest : Red Palm Weevil

Host Crops : Coconut,Date Palm

Pest Identification : Adult weevils are reddish brown, about 35 mm long and 10 mm wide and are characterized by a long curved rostrum (snout). Dark spots are visible on the upper side of the middle part of the body. The head and rostrum comprise about one-third of the total length. In the male, the dorsal apical half of the snout is covered by a patch of short brownish hairs, the snout is bare in the female, more slender, curved and a little longer than the male.

Damage To Crop : Red Palm Weevil is widely considered to be the most damaging insect pest of palms in the world. RPW s are usually attracted to unhealthy palm trees, but they will often attack healthy palms too. Red Palm Weevil larvae feed within the apical growing point of the palms creating extensive damage to palm tissues and weakening the structure of the palm trunk.

Control Measures : The pheromone employed is an aggregation pheromone produced by males that will attract both sexes, although a higher ratio of females is normally captured than males. Insecticide should be placed in these traps to kill trapped weevils. Baiting traps with attractants such as dates or sugarcane will result in a significantly higher incidence of capture.

Recommended Traps : Our Specialized bucket traps with 3 of 4 holes is wound with coconut fibre/ jute sack, so that the pests can enter. The lure is suspended inside the bucket and one liter of water is added along with 100g pineapple/ sugarcane. The bait buckets are placed at sites in the farm, where infestation is seen most. After a week the water is checked for the catch & re filled to prevent mosquitoes from breeding.
Read More...
Looking for "
Rhynchophorus Ferrugineus Lure

" ?